Day 1 * Day 2 * Day 3 * Day 4 * Day 5 * Day 6 * Day 7 * Day 8 * Day 9 * Day 10 * Day 11 * Day 12 * Day 13 * Day 14 * Day 15 * Day 16
Sept 21 – Thursday
The sound of garbage trucks was the first thing I remember hearing the next morning. This was after overhearing a late-night conversation from the restaurant below our room while I was trying to go to sleep. Despite this, I slept well and felt ready to attack the day!
Dan, on the other hand, was suffering from his typical Holiday Man Cold. Without fail, within a day of leaving home on a holiday, Dan's sinuses were flowing freely and he spent most of every day blowing his nose. I am always impervious to this mysterious sickness, but today I did feel a little bit of pressure in my sinuses and a tickle in my throat. Uh-oh!
As I was getting ready and packing things up I went to put in my contacts. One of them was missing! Apparently it never made its way into the case the previous night and was no where to be found this morning. Usually I keep a spare set of contacts in my bath kit but I had forgotten to put them back in after my last trip. I wasn't too worried, as I still had my glasses to wear, but it would be annoying to ride with them in the rain or cold, or on the hikes that we had planned on later on the trip. Instead, I was resourceful and messaged my cat sitter, asking her to check around for a spare set of contacts and forward them to the B&B we had reserved for later in our trip. It was the one place I knew where we would be, and the Swiss Post's website indicated that they would arrive in plenty of time.
Problem solved, we packed our bags, put on our gear and locked the door behind us. Getting out of town took a lot more work and time: we were leaving at rush hour.
While sitting in the traffic I noticed a man on a ladder drilling into the side of a nearby building. I was watching him, daydreaming of my construction work days of using a hammer drill, when he looked over and noticed me. He gave me the biggest grin and gestured towards me. I really couldn't tell what he was trying to convey, and I was distracted by a local motorcyclist who had pulled up on my other side. I waved and nodded to the man on the ladder when the lane cleared and we pulled away. I still wonder what was on his mind during that entire interaction.
Hello, hammering man!

For a while we were traveling through relatively uninteresting suburban sprawl. When I say "uninteresting," that mainly means that photos would be a waste of time. But just seeing how other people live and what is important to them is always interesting. The line of cars we were traveling with eventually thinned out and we had the road mostly to ourselves.
Blurry but cool sign

Stone walls and Mount Okit (a church)

I had an intermediate stop planned for us today: Krka National Park. This had come highly recommended by many people and the all of the photos I had seen looked amazing. I was excited to have some time off the bikes and get some exercise in nature!
We pulled into the Park's massive parking lot (this should have been a warning but hey! It looked like a big park!) and immediately saw two motorcycles from the Swiss canton of Solothurn. Another neighbor on the road! Nearby were cars with plates from Zürich and St Gallen; Switzerland was clearly invading Croatia. The overhead sun was warm already as we changed out of our motorcycle gear and into shorts and hiking boots. The admission booth was obvious if only because it was in the middle of an open space and a few people were standing in a line. I had studied the park's website and understood that if we bought a certain ticket, we'd have access to both the bus and the boat tours offered within the park. We'd start with a short hike and meandered in a likely-looking direction. The signage was poor and I was only guessing that we were heading in the right direction based on the number of people walking that way.
The trail we were on descended a long way and we passed many people coming up, as well as others heading in our direction. We finally ended up in a small parking lot and we followed the crowd onto Skradinski Buk Trail, a boardwalk over clear flowing water that had built up a calcium carbonate riverbed over the years.
It looks like the river is flowing over dirt, but it is hardened calcium carbonate

Clear water and fishes!

Part of the boardwalk trail

It was late September – well past peak season, or so I thought. But the park was packed with people! At first it was just a few others on the boardwalk with us, but then a bus must have arrived at the parking lot because soon the path was so crowded I could barely move, except to be pushed along with the flow of humanity.
We eventually reached the main attraction of this trail, the Skradinski buk.
But the crowds were still there – there was just more room for them to spread out

At the time I could not appreciate the beauty of this place. I was annoyed with the crowds and the waterfalls' beauty was marred by the fight it took to jostle my way past the people. Now, as I look back at my photos, I see that it really is a beautiful place. Perhaps Krka National Park needs to do something about regulating the crowds – the nature is sure to suffer under so much love.
Looking downstream

The Park is extensive. It covers over 100 kilometers along the Krka River. The sites include not just waterfalls, but also historic mills, hydroelectric facilities, a monastery and the ruins of a fortress. We just happened to visit the most easily accessible and popular area. As we returned to the small parking lot at the bottom of the hill I saw a couple of park rangers standing around an information kiosk. I asked them about other features of the park and how to access them. Apparently our entrance ticket was not good for boat or bus tours, so we were on our own if we wanted to make any further explorations. The rangers gave me some good information and we waited for the shuttle bus to take us back up to our motorcycles. We were going exploring!
A quick change back into our gear and about twenty minutes later we were at Roški Slap, another waterfall but one that not as many people took the time to come and see. And to my relief, the roads to get there were quiet and picturesque.
Passing through a small village, stuck behind a German (of course) camper van

Always interesting to see how construction practices vary from country to country

Dan demonstrates his unlimited patience while I take photos

The parking lot was nearly empty as we shed our gear once again. And once again, there were no good signs to let us know which way to walk. So we wandered in one direction and it was correct: we arrived at Roški Slap.
Roški Slap

But apparently Roški Slap wasn't what I had in mind. I had done some research beforehand and saw this photo: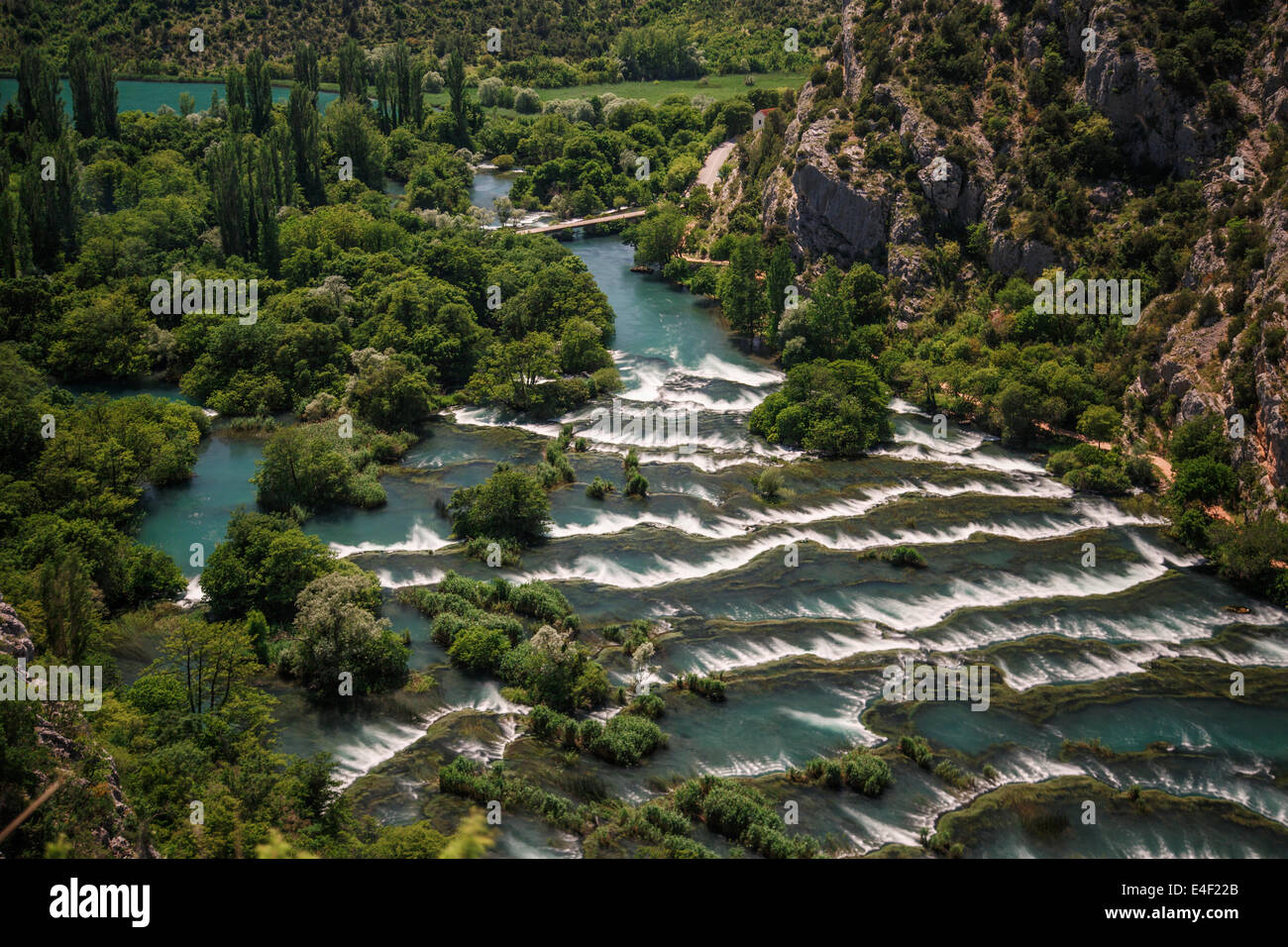 This is what I really wanted to see while we were in Krka. So patient Dan agreed to continue our search. From where we had parked our bikes we now walked in the other direction. The path was wide and almost empty. It was so wonderfully peaceful in this area of the park – if only my introduction to the park had gone so well.
It turns out we did find the falls as shown in the stock photo I linked above. But from the ground they were not nearly as impressive. In fact, they look a lot like this:
Oh well. It was a nice walk around the trail and when we reached the bikes again we agreed that it was time to hit the road and make our next destination!
After we left behind the Krka River we found ourselves on an expansive, flat plateau. It was a good time to open up the throttle and cover some miles. Once again, there was very little in the way of "improvements" done to the land, other than yet more stone walls and a couple of chickens.
Beware of cows

And beware of Dans….(oh look – more stone walls!)

During our time in Pula we contemplated our upcoming destinations along the Croatian coast. There were three cities that had all been highly recommended: Zadar, Split and Dubrovnik. We had agreed to skip Split, as most of what I had read about it indicated that the old town was surrounded by a large city and we did not want to deal with more traffic than we had to. We agreed to stay in Zadar and then see how things worked out from there. As I was doing some additional research in our Zadar apartment, I "discovered" Makarska. The distance was perfect for us and it boasted the moniker of being "The Makarska Riviera." Target acquired!
Split, destination not chosen

Back along the coast

Just needs a fresh coat of paint

The sun drops a little lower…

Me, myself and I

It was almost seven o'clock when we finally pulled into Makarska. The GPS got us to the general location of our B&B, but finding the actual building proved to be more difficult. I had sent an email to the host to let him know when we would arrive, but when Dan tried to call him, the line was busy. A man was working in his yard nearby and saw us hunting around for the address. We asked him if he could help us, but he went to a building and called something through the window. A woman came out and said something to us in Croatian (?), but when we couldn't answer her, she disappeared back into the building and a third person came out. He spoke German, thankfully, and we were able to sort out what we needed to know. But what we still didn't have was any way to contact our host. A fantastic sunset was disappearing behind the buildings as we tried time and again to call him and knock on the door. Finally we gave up: it was getting dark and we needed some place to stay tonight. From our position up on the hillside we could see a hotel along the shore. We jumped back on the bikes and headed for it. Although the hotel we had seen from afar did not work out for us, we did eventually find an available room in a great location. And, as Murphy's Law would have it, that was when we finally reached the host of the B&B. Communication with him was almost impossible (he knew less German than I did) and we told him that we had made other arrangements. I have used Booking.com a lot over the years and this was the first time that it didn't work out for us. I sent an email to the company explaining the situation, partly to make sure that we were not charged and partly to ensure that they knew of the communication problems that we had.
It was dark by the time we pulled into the Hotel Makarska. Our hostess, whom Dan had spoken with briefly on the phone, was German and communication was a breeze. She showed us to our room, we dumped our gear and went out for a quick bite to eat. We settled for a beer and pizza at Restoran Pizzeria Timum and did not regret it.
While it would have been nice to see more of the city, it had been a long day and we had booked our hotel room for two nights – we would have all day tomorrow to explore!